While I considered the HT-1R to sound quite good in its original state I wanted to see how far it would go trying a few upgrades.

I bought:
* 2pc Blackstar HT-1R
* 2pc Celestion Super 8 (15watt)
* 2pc Tung-Sol Reissue 12AX7 (ECC83) shorter plate, like 1/2" -- PREAMP
* 2pc JJ Electronics 12AU7 ECC82 short plate -- OUTPUT

TIP 1:
When opening up your combo, fasten any loose or badly connected connectors and check if there is inadequate soldering on the terminals that connects the cable going to the speaker. I had to resolder one of my combos right there and had to fasten many connectors that were loose or barely fastened on both combos. Good connections makes a difference.
First I'd like to state what sound I'm going after. I'd like to have spacious 3D tube sound with good hard rock abilities. Think early Van Halen, Michael Schenker, Gary Moore, Jake E Lee. If I'm able to accomplish that I can go from vintage rock tones to metal with the switch of a pedal or the flick of a knob later. I'm no stranger to high gain but I'm not into metal core style. So now you know what to expect from this test.
I'm using a ESP HSS Jake E Lee strat (alder body + maple neck, Duncan JB + SS-120) + Keeley Boss SD-1 (only clean boosted, no extra gain) + MXR Stereo Chorus (on/off) + A-B Box Splitter
HT-1R overdrive button ON
--------------------------
Installing a Celestion Super 8:
- So I first installed a single Celestion Super 8 in one combo and had the stock Blackstar Blackbird 15w speaker in the other. When comparing the difference was night and day. It's not like the stock speaker is really bad, but it's rather cold and sterile to my ear. It also sounds scooped. The midrange where you can express yourself on a guitar is lacking. It's perfectly alright for high gain metal - the more modern down tuned kind - but sorely lacks a defined midrange for rock/hard rock and solo work. Changing the speaker to the Celestion Super 8 was like putting a Marshall brand on the combo instead of the Blackstar brand. The combo seemed to have gotten a flatter EQ where the scooped mids were now gone. It sounded more sophisticated than stock. An abolute must upgrade for anyone interested in playing vintage rock, hard rock, or metal 80's 90's style. For the 00's style metal core players the Marshall sound isn't really what's mostly used anyway...
- I then carried on by changing both combos to Celestions.
--------------------------

Installing different tube combinations in one of my HT-1R's with the other using stock tubes. Both combos have Celestion Super 8 in them:

TIP 2:
Always spray the connector pins on the tubes with electrical cleaning spray before installing them. This is to clean the tube-socket. Never forget!
*Original config: TAD ECC82 (output tube), SOVTEK ECC83 (preamp tube)
*config 1: JJ ECC82, Tung-Sol ECC83
impressions: Compared to the original, it's definately a much much warmer character but rather tame. Less gain, less volume. "Sophisticated without balls." Think Eric Johnson, Eric Clapton territory, no offence, but certainly not the sound I'm after... This config is the biggest difference to the original config. If you're into vintage rock of the kinder sort or find yourself often rolling off your tone knob, this might be what you're after.
*config 2: TAD ECC82, Tung-Sol ECC83
impressions: Switching to this from config 1, I recognized the colder, original Blackstar character was now back (it's obviously the TAD that does it) even though it's slightly warmer than original (which must be due to the Tung-Sol). It is for the better. It's not that bad of a sound if you're playing higher gain or metal like Judas Priest or similar. Also, there still is the warmth from the Celestions so it's not overly cold... Clearly more gain than config 1 but on par with original. More useful sound (better musically) through the EQ spectra than stock. Very good. It reminded me some of Geroge Lynch's sound in its character. OK.
*config 3: JJ ECC82, Sovtek ECC83
impressions: A clear improvement on config 2 and the original config. Clearly the best combination of tubes. More 3D (headroom), spaciousness. body. The gain is on par with the original but the string definition is a little clearer, less buzzy. It sounds warmer than config 2, but not as warm as config 1. Original config and config 2 sound noticeably thinner compared to config 3 (which might not be a bad thing if that's what you're after, like George Lynch, so keep that in mind). Config 3 has more body and better response over the whole EQ spectra. It's like all frequencies got a boost and picking response and delivery feels slightly more quick/dramatic. The brown sound of Van Halens guitar + speakers has been described as notes shot from a cannon and config 3 accomplishes the furthest towards that goal of all tube combinations I have tried.
So my search is now over. I ended up using config 3 for both combos and that sounded the best to my ears! I tried config 2 and 3 together. That made for an interesting combination where one was thinner and one slightly warmer. In a stereo setup that sounded good but both combos with config 3 in stereo sounded the best, hands down.
So to sum up, here's my advice for you all:

* Check cables and soldering inside your HT-1R.
* Switch the stock speaker to Celestion Super 8 (15w 8ohm) or maybe the newest model Celestion Eight 15 (15w 8ohm) that was just released (not available at time I purchased).
* Keep the stock Sovtek 12AX7 ECC83 Preamp tube
* Buy and install JJ Electronics ECC82 Output tube
* ENJOY your new Blackstar/Marshall style boutique budget-combo.

Hope you find this useful!

Some pics:
Celestion Super 8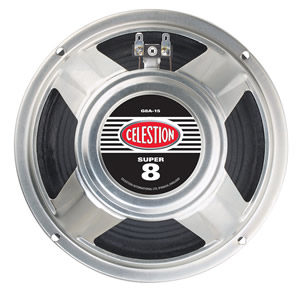 Brand new Celestion Eight 15
JJ Electronics ECC82 Output tube